Update:
06/04/2000
The word is out Canis's CD is set for release on July 25, 2000. You can now get your copy now before the national release
link here
to get your copy today . This is the final draft for Canis's CD cover. Big ups to
Notorious Designz, Inc.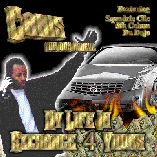 4/09/2000
Canis's cd has just been completed, scheduled released for later this Spring. The title "Lion's Dominion" has been renamed "My Life in Exchange 4 Yours". Thanx to my man, Elijajuan Denevad Baseler of
Notorious Designz, Inc.
for the phat new cover: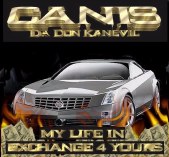 In "RollingStone" magazine Issue 834 Feb. 17, 2000, with Mariah Carey on the cover, look on page 68 CHARTS PAGE. On Mp3 Downloads chart "HELLISH MADE CLIQUE" is listed no.6 .

D.I.Revelations (When hell freezes) has been renamed D.I. Revelations 2000: Da Killinium and will be rereleased in the summer of 2000 with new versions of "Real Niggaz", "A Thug Between Da Sheets", "Friends and Foes", and "Hellish Sympathy"......

Canus a.k.a. Da Don Kanevil is nearly done with his solo project "Lion's Dominion" due out in Spring 2000.....





Welcome In!!! · Updates · Reviews · Lastest News · Related Links · Contact Us